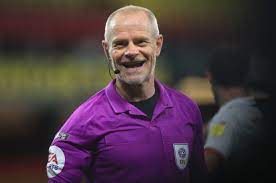 Woolmer Blows The Final Whistle
Woolmer Blows The Final Whistle
Northants Referee, Andy Woolmer, refereed his 565th and final game on Monday 8th May 2023.
Andy, who was a Select Group 2 match official, refereed regularly on the EFL Championship, taking charge of some of the top matches in English football. Staggeringly, 2022/23 was Andy's 29th season as a match official in the English Football League; an outstanding achievement.
Andy started refereeing in 1983, aged 17. He moved through the grassroots structure quickly, before being promoted onto the United Counties League (as Referee) and the Southern League (as Assistant Referee) in 1986. In 1994, Andy was promoted onto the English Football League as an Assistant Referee. He spent 7 years as an Assistant on the EFL (as well as refereeing on the Conference - now the National League), before being promoted to the Premier League as an Assistant Referee in 2001. Andy spent 3 years at this level, before being promoted to the Football League as a Referee in 2004.
Some of Andy's favourite games as an Assistant Referee include his first 'big' Premier League clash between Tottenham Hotspur and Chelsea in 1996, the League Cup final between Liverpool and Manchester United in 2003 and the Community Shield in the same year between Arsenal and Manchester United. Some of his favourite games as a Referee include the Football League Trophy between Barnsley and Oxford United and the League 1 Play-Off Semi-Final between Sunderland and Portsmouth.
We would like to take this opportunity to congratulate Andy on an outstanding career and know that many have looked up to him as a role model as he has progressed through the refereeing pyramid. We are all very proud of Andy and wish him a successful and prosperous retirement.
Referee Development Officer, Olly Mackey, sat down with Andy to chat through some of his experiences within refereeing, his favourite moments and the resilience that is required to operate at the highest level. You can watch the interview here.
If Andy's story has inspired you to start refereeing, or you would like to progress to the next level in your refereeing career, please contact Olly.Mackey@NorthamptonshireFA.com.